Dice is the Way
This game is made in 50 hours for the 2022 GMTK game jam. It might be expanded in the future.
Dice is the Way is a deck builder roguelike card game with a twist: you can change ANY number on the screen when you using the Roll The Dice card.

Roll the dice, this is the way.
Goal
Beat all 4 monsters.
Instruction
Drag the card to the top half of the screen to play it.
After using a dice card, click ANY number on the screen to roll it. ANY NUMBER!

You will draw 3 cards each turn. You can keep up to 5 cards.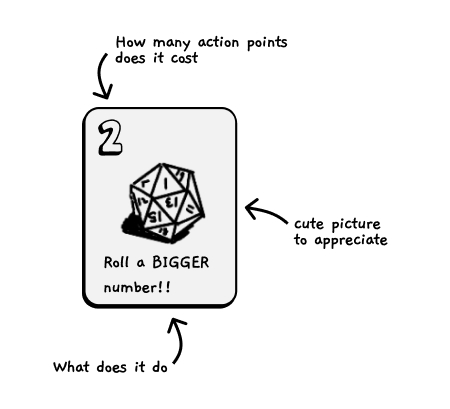 Tips
With good strategies, It's easy to overcome the randomness!
Once the number on the card (e.g. action points, effects etc...) get modified, the effect is PERMANENT.
It's not that easy! Think strategically! And there are a few different strategies to win the game.
Roll a Bigger number means to roll a 20-faces dice, the result will be a number between 1-20.
Use the cards you don't need! Otherwise you may only draw two or fewer cards a turn.
Other Things..
I might continue to expand this game in the future. Currently the heal card is too important compared to other cards, and the fact that you can keep rolling in the early game is rather boring and disrupts the game balance, although this is used to eliminate randomness. I will also consider other better mechanisms to reduce the effects of randomness.
Anyway, thanks so much for playing my game!
Made by
x310: game design & programming
Ringo: sound & BGM & programming
ziyi: monster animation
Alva Peng: card art design
Download
Click download now to get access to the following files:
DiceIsTheWayWindows.rar
30 MB